Azerbaijan President Says Arrests Averted Bloodshed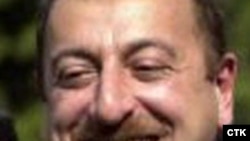 President Ilham Aliyev (file photo) (CTK) 4 November 2005 -- Azerbaijani President Ilham Aliyev has said the arrests of two ministers averted a possible civil war in his country.
Health Minister Ali Ansanov and Economic Development Minister Farhad Aliyev were fired from their jobs last month. They face charges of helping exiled opposition leader Rasul Quliyev plot a coup on the eve of the 6 November parliamentary elections.
Aliyev said on 3 November at a government meeting that he has no doubts the two were funding the seizure of power in Azerbaijan.
(Reuters)

Azerbaijan Election Special

RFE/RL's complete coverage of the November 6, 2005, legislative elections in Azerbaijan and their aftermath.
Timeline: How The Elections Have Unfolded

A photo gallery of the Azerbaijan opposition protests in Baku on November 9, 2005.