French Troops Withdraw from Kyrgyz Base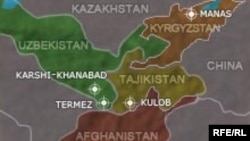 (RFE/RL) Bishkek, 10 November 2005 (RFE/RL) -- French troops stationed in Kyrgyzstan have been pulled from the country.
The press service for the Ganci air base at Manas Airport, located near the Kyrgyz capital Bishkek, has said that the 60 troops were pulled out yesterday after completing their mission.
The Ganci air base is used by U.S. and international forces for conducting security and humanitarian operations in Afghanistan.
Yesterday, six French warplanes and two tanker planes left neighboring Tajikistan.
Frederic Peroni, the military attache at the French Embassy in the Tajik capital Dushanbe, said the French troops in Kyrgyzstan and Tajikistan were stationed in those countries three months ago to provide security in Afghanistan during the 18 September parliamentary elections.
(RFE/RL's Kyrgyz Service/Aki Press/Asia-Plus)