Slain Kyrgyz Lawmaker's Brother Sets Self Ablaze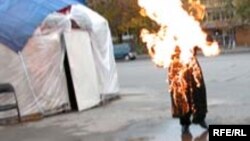 Asan Erkinbaev set himself ablaze in Jalalabad city today (RFE/RL) Osh, Kyrgyzstan, 11 November 2005 (RFE/RL) -- The brother of a murdered Kyrgyz legislator set himself on fire to protest delays in the investigation of his brother's slaying, RFE/RL's Kyrgyz Service reported.
Asan Erkinbaev, brother of Bayaman Erkinbaev, doused himself with fuel and set himself ablaze near the regional administration building in southern Jalalabad region today.
He suffered burns to the face and hands, but is said to be in stable condition.
The Erkinbaev family has been upset at what it says are delays in the investigation into the shooting of Bayaman Erkinbaev in September.
National Security Service spokeswoman Chinara Asanova said today that police are holding two suspects in connection with the murder.
Kyrgyz television yesterday quoted one of the investigators as saying the probe is nearly complete.
(with Kyrgyz television, Reuters)
RFE/RL Central Asia Report

SUBSCRIBE For regular news and analysis on all five Central Asian countries by e-mail,
subscribe to "RFE/RL Central Asia Report."