Switzerland Allows Seized Art To Return To Moscow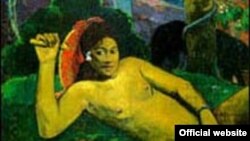 Gauguin's "The Kings Wife" is part of the museum's French art collection (official site) 16 November 2005 -- A Swiss government official says a collection of paintings from Moscow's Pushkin Fine Arts Museum can return to Russia.
The paintings, which had been sent to Switzerland for an exhibition,
were seized briefly
at the request of a Swiss company that claims that Russia owes it millions of dollars in debts.
Oswald Sigg, a spokesman for Switzerland's governing Cabinet, said today that cantonal authorities have been requested to carry out the release immediately.
Swiss officials later released all but nine of the 54 paintings. The remaining works are in a locked customs vault that can only be opened tomorrow morning.
The collection includes works by Claude Monet, Paul Gauguin, and Henri Matisse, and has a total insured value of more than $1 billion.
(AP/ITAR-TASS/Reuters)