Even as he recalled the warm welcome he had received in the U.S. Senate, the Uzbek president kept his thoughts on lurking dangers. "We have friends and we have enemies," he said. "Let our enemies see that reception."
Friends And Foes
Karimov's terms are still the same, but not the friends and foes. In late July, he asked the United States to vacate the air base in Khanabad that was the tangible result of his 2002 visit to Washington. As he spoke to journalists before leaving for Moscow on 14 November, Karimov said "the resentful forces that have been told to leave the Khanabad airfield will not rest. They never tire of subversive activities. I would say their main goal is to discredit Uzbekistan's independent policy, disrupt peace and stability in the country, and make Uzbekistan obey."
Karimov leavened this dire pronouncement with news of an old friendship renewed. Addressing the treaty he was about to conclude with Russia, he said, "[W]hen this agreement comes into effect, any hostile actions directed against Uzbekistan, any attempts to attack or occupy Uzbekistan will mean an assault on Russia. From now on, anyone trying to sting us...will be doing it against Russia too."
Military Component
Signed in Moscow on 14 November in the course of a meeting between Karimov and Russian President Vladimir Putin, the new treaty establishes an alliance between Russia and Uzbekistan with a clearly expressed military component. As published on kremlin.ru, the treaty states in Article 2: "If an act of aggression is committed against one of the sides by any state or group of states, this will be viewed as an act of aggression against both sides."
"In the case of an act of aggression against one of the sides," the article continues, "the other side...provides necessary assistance, including military assistance, as well as giving aid through other means at its disposal." Article 4 covers the use of military facilities: "In order to ensure security and maintain peace and stability, the sides, when necessary and on the basis of separate treaties, grant each other the right to use military facilities on their territory."
The treaty's basing provisions are its most eye-catching feature, particularly in light of the impending U.S. departure from Khanabad. A number of reports noted, however, that Russia is not rushing to establish a base in Uzbekistan. A source at the Uzbek Embassy in Moscow told "Nezavisimaya gazeta" on 15 November that a Russian military presence in Uzbekistan -- which would, according to the treaty's terms, require a separate agreement -- was not part of Karimov and Putin's talks. And "Kommersant-Daily" cited a "highly placed Russian source" as saying that "the issue of creating a Russian military base in Uzbekistan is not on the agenda now."
Some reports, such as one in "Novaya politika" on 15 November, suggested that if a Russia base is in the cards, it may appear after Uzbekistan joins the Common Security Treaty Organization (CSTO, currently comprising Armenia, Belarus, Kazakhstan, Tajikistan, Kyrgyzstan, and Russia) and under the CSTO's aegis.
Boosting Trade And Investment
While the Uzbek president hailed his country's new security guarantees, his Russian counterpart stressed trade ties and economic cooperation. UzA, Uzbekistan's official news agency, reported that bilateral trade volume has been on the upswing and may top $2 billion in 2005. UzA also noted that Russia's LUKoil and Gazprom are slated to invest as much as $2.5 billion in Uzbekistan.
There may be other goodies in store for Russia as well, "Kommersant-Daily" reported. Uzbekistan's sovereign debt to Russia is roughly $500 million, and Moscow may be looking to convert it into stakes in Uzbekistan'sChkalov Tashkent Aircraft Production Company and the Chirchik aircraft-repair plant. Another target for Russian investment could be uranium and gold production projects at the Almalyk (Olmaliq) refinery, the newspaper noted.
Another hint of a monetary foundation for the military alliance came in an UzA report that Karimov was to meet on 15 November with Kremlin-friendly Russian aluminum magnate Oleg Deripaska. Deripaska is no stranger to coordinating his business moves with the Kremlin's Central Asia initiatives. In October 2004, he accompanied Putin to Tajikistan, where the president inked an agreement with Tajik President Imomali Rakhmonov to establish a permanent Russian military base in Tajikistan, while Deripaska's company, Russian Aluminum (RusAl), pledged more than $1 billion in investments for aluminum production-facilities and hydropower generation.
As Russia's 18 month-long rapprochement with Uzbekistan crested in the treaty, Uzbekistan's relations with the West sank to new lows. On 14 November, the same day Uzbekistan's Supreme Court sentenced 15 men to prison terms ranging from 14 to 20 years for their involvement in unrest in Andijon on 12-13 May, the European Union officially adopted an embargo on arms sales to Uzbekistan and a visa ban for 12 high-ranking Uzbek officials, including three ministers. The EU measures came as an explicit response to what it described as the Uzbek government's "indiscriminate and disproportionate" use of force in Andijon.
Russian officials, including Putin, have accepted the Uzbek government's explanation of the violence in Andijon as the work of religious extremists and have praised Karimov for his handling of the situation.
Turning Away From The West
The latest movements around Uzbekistan, from the treaty with Russia to the EU sanctions, represent the formalization of a trend that has been gathering steam since late 2003, when tumult in Georgia brought down long-ruling President Eduard Shevardnadze. As Uzbekistan's president saw similar examples of unforeseen regime change play out in Ukraine and Kyrgyzstan in 2004-05, he turned away from the West, and particularly the United States, which he had come to view as advocates of destabilization. The violence in Andijon, which prompted Western countries to call for an international investigation of reports that the Uzbek government massacred civilians, did not cause the rift; it merely deepened an existing one.
The shifts in Uzbekistan's foreign relations over the last four years have resulted from changes in the world around Uzbekistan. The fallout from 11 September 2001 ushered in a strategic partnership with the United States. The fallout from political upheaval in the post-Soviet world undermined the Uzbek leadership's faith in that partnership and led it to an alliance with Russia.
Now that the results of four uneasy years abroad have assumed the tangible form of isolation from the West and an alliance with Russia, the stage is set for the impetus behind Uzbekistan's foreign policy to move to the domestic front, where Karimov has clung to the same policies he has pursued for over a decade. In the wake of Andijon, those policies face grave tests. Now, with the West almost entirely unable to influence them, and Russia seemingly convinced there is no need even to try, their outcome will likely determine the future of Uzbekistan's relations with both.
Russian-Uzbek Relations: A Timeline
Russian-Uzbek Relations: A Timeline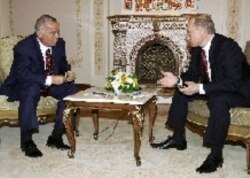 CHRONOLOGY
A
detailed timeline
of Russian-Uzbek relations since 1992.