Iran Deems Military Site Off-Limits To UN Without 'Proof'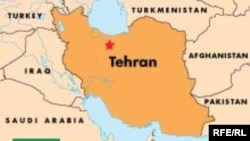 (RFE/RL) 20 November 2005 -- Iran's Foreign Ministry has said it will not allow inspectors from the UN nuclear watchdog to visit a military site in Tehran unless the agency provides "concrete proof" to justify an inspection, while the country's parliament has adopted a tough stance ahead of possible referral to the UN Security Council.
A new report from International Atomic Energy Agency (IAEA) Director-General Muhammad el-Baradei says Iran is still denying access to sensitive "military-owned workshops and research and development locations."

The IAEA wants to return to the Lavizan-Shian area in Tehran, site of a physics-research center that was dismantled and the ground razed before IAEA inspectors paid an initial visit in June 2004.

Iranian Foreign Ministry spokesman Hamid Reza Asefi said today that Iran has cooperated with the IAEA and will continue doing so. But he said Iran will only work within the framework of the Non-Proliferation Treaty (NPT) and the safeguards, and will not accept anything further.
Parliament Speaks Out, Too
Iranian lawmakers, meanwhile, voted today to oblige their government to stop allowing intrusive inspections of atomic sites if Tehran is referred to the UN Security Council.
A total of 183 of 197 lawmakers present voted for the bill in a session that was broadcast on state radio.
The vote came ahead of the planned meeting on 24 November of the IAEA governing board to consider referring Iran to the Security Council for possible sanctions.

(afp)

THE COMPLETE PICTURE: RFE/RL's complete coverage of controversy surrounding Iran's nuclear program.
CHRONOLOGY
An
annotated timeline
of Iran's nuclear program.