Russian Governor Blames Negligence For Roof Collapse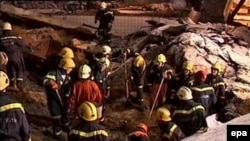 A screen capture of yesterday's accident (epa) 5 December 2005 -- Authorities in Russia's Urals region say negligence could be behind the building collapse that claimed 14 lives in the town of Chusovoi yesterday.
Addressing reporters, Perm Krai Governor Oleg Chirkunov said he believed the roof of the Chusovoi municipal swimming pool collapsed as a result of safety violations.
"As far as I can determine, this emergency situation was caused by violations during either construction, or maintenance, or both," Chirkunov said. "It is the metal arches that were holding [the roof's] concrete slabs that collapsed."
Authorities say 14 people -- including 10 children -- were killed in the accident. Another 11 people sustained injuries.
(Agencies)