Russia Saves Billions Of Dollars From Debt Payment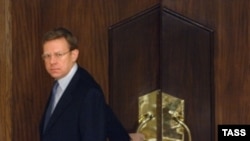 Russian Finance Minister Aleksei Kudrin (file photo) (ITAR-TASS) 14 December 2005 -- Russia's finance minister says early settlement of $18 billion in foreign debt this year will save Russia some $5 billion in interest payments.
Finance Minister Aleksei Kudrin told the Federation Council that thanks to high oil prices, Russia paid down $3 billion to the International Monetary Fund and $15 billion to the Paris Club of creditor countries ahead of schedule in 2005.
Kudrin said early debt payment this year will save Russia a total of $5 billion in interest payments over the years. Russia had previously paid $7 billion a year to cover interest on its foreign debt.
The Federation Council today approved the 2006 draft budget, which envisages a 40 percent hike in spending, largely funded by state revenues from oil and gas exports.
(newsru.com/Interfax/AP)