Duma Softens Law On Citizenship In First Reading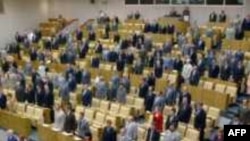 The Russian duma in session (file photo) (AFP) 14 December 2005 -- The State Duma has approved in its first reading a legal amendment that extends the deadline given former Soviet citizens to obtain Russian passports under a simplified procedure.
The change is supported by Russian President Vladimir Putin.
Under the amended legislation, the deadline would be extended until 1 January 2008. The current deadline expires on 1 January.
The proposed legal changes would also make it possible for former Soviet citizens who obtained a residence permit in Russia after 1 July 2002 to apply for citizenship. Under the current legislation, only people who obtained a residence permit prior to that date can apply for citizenship.
(ITAR-TASS/RIA-Novosti)