More Than 40 Suspects Charged Over Nalchik Raids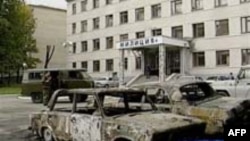 The aftermath of the October raid in Nalchik (file photo) (AFP) 15 December 2005 -- Russia's Deputy Prosecutor-General Nikolai Shepel has said more than 40 suspects have been charged on suspicion of links with the October militant raids on Nalchik, the capital of the Northern Caucasus Republic of Kabardino-Balkaria.
Shepel also said more than 60 people have been arrested in the aftermath of the attacks.
On 13 October, dozens of armed militants attacked security buildings in Nalchik, triggering two days of street fighting that officially claimed more than 140 lives.
Among people arrested in the wake of the attacks is Ruslan Nakhushev, the local representative of the Russian Islamic Heritage, a nongovernmental group that fights the spread of radical ideas among young Muslims. Another detainee is Rasul Kudayev, a former Guantanamo Bay prisoner who returned to Russia last year.
Lawyers for the detainees say police have tortured their clients to coerce confessions from them.
(Interfax)
A slideshow look at the October 13-14 violence in Nalchik, capital of the Russian North Caucasus Republic of Kabardino-Balkaria.