The Interfax news agency quoted police officials as saying close to 1,000 people were taking part in the march, which was organized by the liberal Union of Rightist Forces and Yabloko parties, as well as the United Civic Front led by former chess champion Garry Kasparov.
Racist attacks have been on the rise in Russia. A Peruvian student was killed in the city of Voronezh in October. A Congolese student was slain a month earlier in St. Petersburg.
This month's Moscow City Duma elections were also marked by the disqualification of the Motherland (Rodina) party, which was barred after the broadcast of an overtly racist campaign ad.
(Interfax/gazeta.ru/AFP)
Campaign Advertising Sparks Controversy
Campaign Advertising Sparks Controversy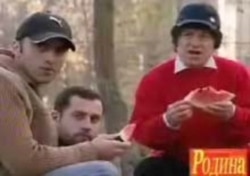 A Moscow court has banned Rodina (Motherland), a nationalist opposition party, from running in the December 4 elections to Moscow's City Duma. Judges ruled that the party's campaign advertisement incited racial hatred. The decision has incensed Rodina's leader, who has accused the authorities of trying to get rid of a powerful opposition force
....(more)
See also: