Srebrenica Massacre Trial To Begin In Serbia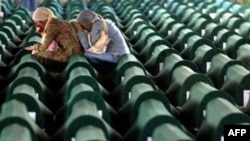 Women mourn victims of the ethnically fueled massacre at Potocari, near Srebrenica (file photo) (AFP) 20 December 2005 -- Five former Serbian policemen who are believed to have been featured in a video showing them executing Muslims from Srebrenica in 1995 go on trial today in Belgrade.
Prosecutors say the five men are former members of a Serbian police unit called the Scorpions.
The
video sparked outrage
in the Balkans and around the world when it was broadcast by television stations in June.
The lead prosecutor at the war crimes trial of former Serbian and Yugoslav President Slobodan Milosevic in The Hague showed that court the video on 1 June. It depicts a group of bloodied Bosnian Muslims being driven in trucks to an area where they are shot by their captors amid a torrent of verbal abuse.
The trial set to begin today marks the first time that Serbia has tried people over the Srebrenica massacre, in which more than 7,000 Muslim men were killed.
(compiled from agency reports)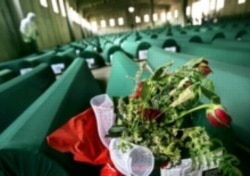 Coffins of Srebrenica victims being prepared for burial in October (AFP)

THE WORST ATROCITY IN EUROPE SINCE WORLD WAR II: The July 1995 massacre of some 7,000 Muslim men and boys by Bosnian Serb fighters near the UN-designated safe haven of Srebrenica is the worst atrocity of its kind in Europe since the end of World War II. Since the incident, the name Srebrenica has become practically synonomous with ethnic cleansing....(more)
See also:
Coming To Grips With The UN's Failure At Srebrenica
Child Of Srebrenica Returns Home For Anniversary Of Massacre