Kyrgyzstan To Hold Referendum On Presidential Powers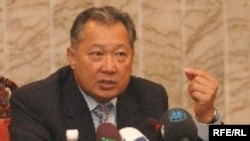 Bakiev wants reform but not on a timetable (file photo) (RFE/RL) 21 December 2005 (RFE/RL) -- President Kurmanbek Bakiev said today Kyrgyzstan will hold a referendum next year that will ask citizens if they want to weaken the powers of the presidency in favor of parliament.
Speaking to the Constitutional Council, which he chairs, Bakiev said the Kyrgyz people would be asked whether they want a presidential, a parliamentary, or a presidential-parliamentary system of government. But he proposed that no time frame be set.
"We have to hold a referendum and determine a political system," he said. "When we find out the right form of political system, then we can write the constitution."
The president has repeatedly signaled that he favors postponing constitutional reforms up until 2009.
Bakiev came to power following a March uprising that ousted Askar Akayev. He was elected to the presidency in July, pledging to curtail presidential powers and give more to parliament.
(RFE/RL's Kyrgyz Service with agencies)
RFE/RL Central Asia Report

SUBSCRIBE For regular news and analysis on all five Central Asian countries by e-mail,
subscribe to "RFE/RL Central Asia Report."