Annan Appoints New Afghan Envoy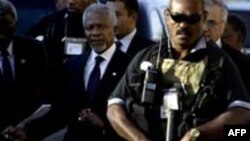 Annan visited Baghdad in November (AFP) 27 December 2005 -- UN Secretary-General Kofi Annan has appointed German peacekeeping official Tom Koenigs as his top envoy in Afghanistan.
Koenigs replaces Jean Arnault, who had been Annan's special representative in the country since early 2004.
Koenigs previously held the same post in Guatemala and also served as a senior official with the UN mission in Kosovo.

(AP)