Last Ukrainian Troops Leave Iraq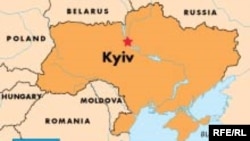 Ninety-five soldiers and officers have returned to Ukraine from Iraq (RFE/RL) 29 December 2005 -- Ukraine's last troops in Iraq returned home today, ending a deployment of more than two years.
A Ukrainian military plane carrying the last 95 troops and officers landed at a military airfield in the western Lviv province, where Defense Minister Anatoly Hritsenko welcomed them back.
Ukraine sent some 1,600 infantry to Iraq in summer 2003. The troops were stationed in the central Wasit province.
(dpa)

Coalition Images Of The Voting

The Multinational Force in Iraq on December 15, 2005, released official images of the voting in the legislative elections. To view a slideshow of their photographs,
click on the image.
To see RFE/RL's special webpage about the election, click here.