The bilateral accord is due to facilitate development and infrastructure aid to Afghanistan delivered through the Turkish International Cooperation Agency.
At a joint news conference with his Turkish counterpart, Ahmet Necdet Sezer, Karzai expressed appreciation for Turkey's assistance and urged greater investments from Turkish firms.
Sezer promised his country will continue to help Afghanistan's development and security.
During his two-day visit, Karzai is also scheduled to meet with Prime Minister Recep Tayyip Erdogan, General Hilmi Ozkok -- head of the Turkish military -- and Foreign Minister Abdullah Gul.
The talks are expected to focus on rebuilding Afghanistan.
Karzai is the first Afghan head of state to visit Turkey in 48 years.
(Anatolia/AFP)
Influential Women

Mas'uda Jalal is a physician and member of the Afghan government who finished sixth in her unprecedented bid for the Afghan presidency. ...(more)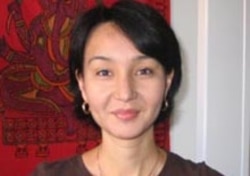 Galima Bukharbaeva risked her life covering the bloody crackdown on protesters in Andijon, Uzbekistan. ...(more)
Saltanat Rakhymbekova heads the Business and Industry Department in Kazakhstan's Central Karaganda province. ...(more)
Gozel Kulzhanova started her own landscaping and plant decorating business and a related magazine in Kazakhstan....(more)

Four-Part Series:
Women & Power In Central Asia (Part 1): The Struggle For Equal Rights
Women & Power In Central Asia (Part 2): Women Increase Presence In Kazakhstan's Business Sector
Women & Power In Central Asia (Part 3): Afghan Women Rise To Top After Taliban Repression
Women & Power in Central Asia (Part 4): Roundtable On The Tajik, Afghan, and Iranian Experiences