Russian, Ukrainian Presidents To Meet In Kazakhstan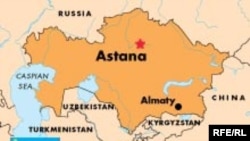 (RFE/RL) 10 January 2006 -- Russian President Vladimir Putin is due to depart Moscow later today for a visit to Kazakhstan.
Putin on 11 January is due to attend the inauguration in Astana of President Nursultan Nazarbaev to a new seven-year term.
Putin is also due to meet in Astana with Ukrainian President Viktor Yushchenko.
It will be the first face-to-face meeting between the Russian and Ukrainian leaders since the natural gas price dispute between the two countries led to Russia briefly cutting supplies to Ukraine at the new year. The two sides later reached a compromise resolution.
(ITAR-TASS/AFP)