Russian Foreign Ministry Condemns Synagogue Attack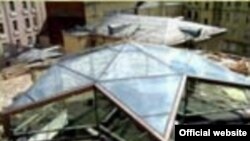 Hasid Synagoge in Moscow (file photo) (official website) 12 January 2006 -- Russia's Foreign Ministry has condemned an attack on worshippers at a Moscow synagogue.
In a statement, the ministry said it would continue to fight any manifestation of anti-Semitism, xenophobia, or religious intolerance.
Eight people were wounded when a knife-wielding man attacked worshippers during a service ast the Hasid Synagogue on 11 January. The attacker -- a 20-year-old Moscow resident -- was arrested immediately. Police say they have no reason to believe he is linked to an extremist organization.
Russian media reports said five of the injured remained in hospital.
The Russian Orthodox Church and the Council of Russian Muftis have condemned the attack.
(Interfax, ITAR-TASS)