Ukraine Joins Anti-Corruption Monitoring Group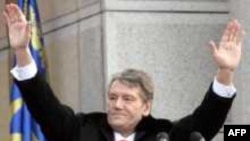 Yushchenko promised to clean up corruption when he was elected (file photo) (AFP) 12 January 2006 -- The Council of Europe today said Ukraine had become the 40th member of its anti-corruption monitoring group.
Council of Europe Secretary-General Terry Davis said in a statement Kyiv's accession to the Group of Countries against Corruption, or GRECO, on 1 January was "an important step" in helping Ukrainian President Viktor Yushchenko implement his pledge to fight economic crimes.
Davis said the Council of Europe would send a fact-finding mission to Ukraine later this year.
The mission will focus on corruption in public administration, the authorities in charge of investigating and prosecuting corruption crimes, and the immunity from criminal prosecution enjoyed by certain state officials. Other subjects are expected to be discussed as well.
Ukraine this year ranked among the worst countries in Transparency International's annual survey of perceived corruption worldwide.
(Council of Europe statement)
RFE/RL Belarus, Ukraine, And Moldova Report

SUBSCRIBE For weekly news and analysis on Belarus, Ukraine, and Moldova by e-mail,
subscribe to "RFE/RL Belarus, Ukraine, And Moldova Report."