Afghan President Postpones Visit To Tehran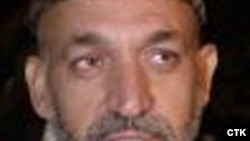 President Karzai (file photo) (CTK) 16 January 2006 (RFE/RL) -- Afghanistan's President Hamid Karzai has postponed a visit to Tehran, where he had been expected to hold a summit with the presidents of Iran and Tajikistan.
"Due to poor weather condition and technical problems, the journey of President Karzai to Iran has been postponed," Afghan Foreign Ministry spokesman Navid Ahmad Mois announced:
No new date was given for when Karzai might visit Tehran.
Iran's official Islamic Republic News Agency reported that Tajikistan's President Imomali Rakhmonov was expected to arrive in Tehran today for talks with Iranian leaders on expanding the economic and cultural ties between the two countries.
(RFE/RL's Afghan Service, IRNA)
RFE/RL's World: 2005 In Pictures


A slideshow of images related to the top news stories of 2005 from throughout RFE/RL's broadcast region with links to RFE/RL's reporting.
See also:
2005 In Review: Central Asia Witnesses Revolution, Continued Crackdown
2005 In Review: Does The Presence Of Western Election Observers Make A Difference?
2005 In Review: The Geopolitical Game In Central Asia
2005 In Review: Migrants, Refugees Victims Of Incoherent Laws In Post-Soviet States
2005 In Review: The Transformation Of Television In Russia
2005 In Review: Russia's Centralization Gathers Pace
2005 In Review: A Year Of Hopes, Disappointments For Afghans And Iraqis