Judge Rizgar Muhammad Amin submitted his resignation last week, complaining of political interference in the case. Chief Prosecutor Jaafar al-Moussawi said today that efforts to get Amin to change his mind have failed.
Sayeed al-Hamashi, the most senior of the other four judges in the case, will preside over the trial's session on 24 January.
Moussawi said no final decision has been taken on whether to definitively accept Amin's resignation.
(Reuters, AFP)
The Presiding Judge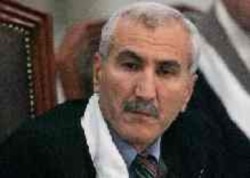 On November 11, 2005, RFE/RL's Radio Free Iraq (RFI) spoke with Iraqi Special Tribunal presiding Judge
Rizgar Muhammad Amin
about the trial of ousted Iraqi President Saddam Hussein and seven of his associates...
(more)