White House Spokesman Scott McClellan today declined to confirm the U.S. launched the strike on 13 January, but he affirmed that Pakistan remains a valued U.S. ally.
The strike has greatly angered many in Pakistan. Officials there say they cannot accept air strikes on their territory.
The strike was apparently aimed at Ayman al-Zawahri, Osama bin Laden's top lieutenant. Pakistani intelligence officials say Zawahri was not among those killed, but say that four foreign militants died in the attack.
(compiled from agency reports)
Who Is Ayman al-Zawahri?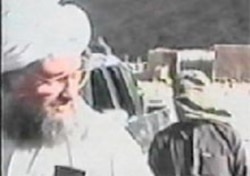 AYMAN AL-ZAWAHRI is regarded as Al-Qaeda's No. 2 authority. Although al-Zawahri is lesser known than Osama bin Laden, some observers say the deputy is just as powerful as the chief....(more)
See also:
Is Al-Qaeda Letter Sign Of Rift, Or Opportunity For Bush?