The attack happened on 13 January in the northwestern village of Damadola. The strike killed at least 18 people.
News agencies, citing unidentified sources in the U.S. intelligence community, reported that the strike was aimed at top Al-Qaeda leader Ayman al-Zawahri.
News agencies also quoted two unnamed senior Pakistani officials as saying al-Zawahri was not at the site of the attack.
Pakistan's Foreign Ministry released a statement saying preliminary investigations into the strike show there was a "foreign presence in the area and that in all probability was targeted from across the border in Afghanistan."
The U.S. Defense Department has denied that the U.S. military conducted any attacks in the area.
(AFP, AP, Reuters)
Who Is Ayman al-Zawahri?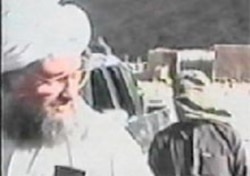 AYMAN AL-ZAWAHRI is regarded as Al-Qaeda's No. 2 authority. Although al-Zawahri is lesser known than Osama bin Laden, some observers say the deputy is just as powerful as the chief....(more)
See also:
Is Al-Qaeda Letter Sign Of Rift, Or Opportunity For Bush?