A reversal of the planned Dutch deployment to Oruzgan Province due to internal political debate in The Hague would also strengthen the position of the neo-Taliban and their allies.
NATO foreign ministers meeting in Brussels in December formally endorsed an expansion of NATO's peacekeeping operations in Afghanistan. The revised operational plan for the NATO-led ISAF -- known as "Stage 3 expansion" -- provides strategic guidance for increased NATO support to the Afghan government in extending and exercising its authority and influence throughout the country.
The next stage of that plan is the expansion of ISAF in 2006 to six southern and central Afghan provinces: Daikondi, Helmand, Kandahar, Nimroz, Oruzgan, and Zabul. As part of the expansion, the ISAF is expected to grow from its current strength of 9,000 soldiers from 26 NATO and 10 non-NATO countries to 16,000 troops -- with most of the reinforcements coming from Canada, the Netherlands, the United Kingdom, and non-NATO-member Australia (see "RFE/RL Afghanistan Report," 20 December 2005).
Domestic Debate
The Dutch government tentatively agreed to send 1,200 troops -- along with military hardware, including attack helicopters -- to Oruzgan to assume responsibility for the provincial reconstruction team (PRT) based in the provincial capital of Tarin Kot, which is currently under U.S. command.
From the beginning, the decision by Prime Minister Jan Peter Balkenede to send additional Dutch troops to Afghan hotspots has elicited questions from parties within his ruling coalition. It has consequently also prompted concessions from the international community to help deflect domestic criticism, and in particular to placate the Democrat 66 (D66) party and its ministers in the cabinet. The compromises have included a pledge by Kabul to remove the provincial governor, who has been implicated in corrupt activities; an agreement by NATO to a Dutch request that prisoners of war be handed over to the Afghan government rather than to U.S.-led coalition forces, along with a guarantee that there can be no capital punishment for such prisoners; a NATO decision to provide for additional troops; and agreement by the United States not to withdraw its forces from Zabul Province, south of Oruzgan.
Mounting Pressure
The decision-making in The Hague has attracted criticism from NATO Secretary-General Jaap de Hoop Scheffer, a former Dutch foreign minister, and from the United Kingdom, which is awaiting news from the Netherlands in order to plan its own deployment. U.S. Undersecretary of State for European Affairs Daniel Fried said recently that he was "perplexed by the debate in the Netherlands."
However, the recent escalation of violence in southern Afghanistan -- and the increasing use of suicide bombing -- is not helping the Dutch prime minister make his case.
UN envoy Jean Arnault noted on 17 January, one day after a suicide attack had killed more than 20 people in Kandahar Province, that "while great gains have been made [in ensuring security in Afghanistan], the challenges are still considerable and the job is far from done," according to dpa. Arnault noted that suicide bombings were on the rise particularly where NATO troops were moving in to replace U.S. soldiers. A suicide bomber targeting the convoy of recently deployed Canadian forces in Kandahar on 15 January killed a senior Canadian diplomat involved in peacekeeping operations along with two Afghans. Such incidents have highlighted the risks facing the populace and international forces in Oruzgan, which neighbors Kandahar.
Prime Minister Balkenede's eventual failure to win approval for the Dutch deployment would threaten the ruling coalition and put at risk the entire ISAF "Stage 3 expansion." And while NATO might be pondering a "Plan B," there do not appear to be any straightforward alternatives to fill the void if the Dutch back out.
Sending The Wrong Signals?
Those in the Dutch cabinet who oppose sending troops to Afghanistan are facing a dilemma. If they approve Balkenede's plan and a significant attack targets Dutch troops, they are certain to face domestic criticism for having gone along with a plan that they publicly criticized as dangerous for the Netherlands. On the other hand, if they block a troop deployment to Afghanistan, the neo-Taliban and their allies -- particularly Al-Qaeda -- can claim victory in having affected the internal politics of a NATO member state. If the dispute topples Prime Minister Balkenede's government, international terrorists can claim -- justifiably or not -- to have brought down another Western government in addition to that of Spanish Prime Minister Jose Maria Aznar in 2004, following the terrorist attacks in Madrid.
While the ISAF is not expected to conduct counterterrorism operations in southern Afghanistan, a troop reversal by the Netherlands could embolden the forces opposing Afghan President Hamid Karzai's government. It might also send the message that terror and intimidation can prevent NATO from even beginning its expanded mission in Afghanistan.
Suicide Attacks In Afghanistan
Suicide Attacks In Afghanistan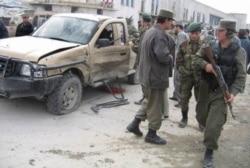 The results of a suicide-bomb attack in Kandahar Province on January 16 (epa)
Suicide bombers have struck more than two dozen times in Afghanistan since neo-Taliban and Al-Qaeda insurgents appear to have stepped up use of such attacks following the provincial and national elections of September 2005. While sporadic until recent months, suicide bombings have killed at least 90 people in Afghanistan since late 2001 -- including the attack in the days leading up to 9/11 that left legendary Afghan mujahedin commander Ahmad Shah Mas'ud dead. For an overview of suicide attacks in Afghanistan dating back to 2001, click here.