The voice on the tape also offers the U.S. a truce on the condition that coalition forces leave Iraq and Afghanistan.
The White House immediately rejected the offer. Spokesman Scott McClellan said the U.S. will not negotiate with terrorists.
The recording said heightened security measures in the U.S. are not the reason there have been no attacks there since the 11 September 2001 suicide hijackings. Instead, it said, the reason is "because there are operations that need preparations."
U.S. security officials said they have seen no credible intelligence to indicate an upcoming terror attack.
The recording said a truce would prevent wasting huge sums of money and lives.
"We do not mind offering you a long-term truce with fair conditions that we adhere to. We are a [religious] community that God has forbidden to lie and cheat. So both sides can enjoy security and stability under this truce so we can build Iraq and Afghanistan, which have been destroyed in this war."
The tape's authenticity has not yet been confirmed. It also wasn't clear when it was made, but references to events in the recording suggest it dates from the second half of 2005.
(compiled from agency reports)
Suicide Attacks In Afghanistan
Suicide Attacks In Afghanistan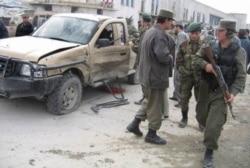 The results of a suicide-bomb attack in Kandahar Province on January 16 (epa)
Suicide bombers have struck more than two dozen times in Afghanistan since neo-Taliban and Al-Qaeda insurgents appear to have stepped up use of such attacks following the provincial and national elections of September 2005. While sporadic until recent months, suicide bombings have killed at least 90 people in Afghanistan since late 2001 -- including the attack in the days leading up to 9/11 that left legendary Afghan mujahedin commander Ahmad Shah Mas'ud dead. For an overview of suicide attacks in Afghanistan dating back to 2001, click here.