Moscow Mayor Pledges Help To Milosevic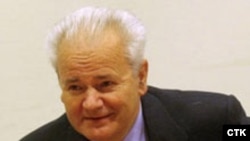 Slobodan Milosevic (file photo) (CTK) 21 January 2006 -- Moscow Mayor Yury Luzhkov today pledged to help former Yugoslav President Slobodan Milosevic get all the medical treatment he might need provided the UN's War Crimes Tribunal for the Former Yugoslavia (ICTY) grant his request to be allowed to go to the Russian capital.
Milosevic has asked provisional release from detention in The Hague, where he is being tried on charges of genocide. Milosevic is suffering from a heart condition and high blood pressure.
Russia this week pledged to return him to The Hague after his treatment.
Luzhkov added once again that he believes Milosevic is being tried unjustly. Milosevic's brother, Borislav, is a former Yugoslav ambassador to Moscow and lives in Russia.
(newsru.com, Interfax)


For an archive of RFE/RL's coverage of the trial of former Yugoslav President Slobodan Milosevic, click here.
Of related interest:
RFE/RL Special: The Collapse Of Tito's Yugoslavia