RFE/RL:
Expectations are high. Everybody is saying this was a very crucial meeting and that the ministers will decide, perhaps today, whether the two president will meet in the coming days. What can you tell us about today's meeting?
Vardan Oskanian:
First, let me say that the meaning of this particular meeting should not be overly exaggerated. It was an important meeting, but let's not overly exaggerate because the purpose of the meeting was to prepare the presidents' next meeting, which most probably will take place during the first half of February. So, in that sense, the meeting served its purpose because we basically made our positions clear to each other. Now we'll go back to our capitals and communicate all these to our presidents and the presidents will attend that meeting better prepared, knowing what to expect, knowing what is the position of the other side.
So, in that sense, I would say that it was a positive meeting -- in terms of clarifying each other's position. And I also can now confirm that there will be a meeting between the two presidents, because that was also decided during this meeting. And the French side already handed the invitations to both presidents to attend the next meeting, in France. The venue and the exact date of the meetings will be finalized by the French side and they should announce soon, in the coming days.
RFE/RL:
Will there be another meeting, after this one, between you and [Azerbaijani Foreign Minister Mammadyarov], before the presidents' meeting?
Oskanian:
No, I don't think there will be another meeting between the two ministers. There is not much time and there is not much to talk [about] anymore. And so, we will wait for the presidents to meet and we will take it from there.
RFE/RL:
Can we expect a breakthrough?
Oskanian:
It is difficult to make that kind of a judgment, but one should hope that the presidents will be able to register progress.
RFE/RL:
There was a report that there is a working paper right now that you and the Azeri foreign minister are discussing. What can you tell us about that?
Oskanian:
There is a nonpaper. We've talked about this before. It is not a draft agreement -- let's make that very clear. It is a half-page text which is a nonpaper, where certain principles of the resolution of the conflict have been articulated and this serves as a guideline for talks between the ministers and also the presidents. Once the principles have been agreed to, then these principles could serve as the basis for a more detailed document, which eventually could serve as a guiding document for the resolution of the conflict.
RFE/RL:
Did you make today progress on that paper?
Oskanian:
Well, there are many principles there. On some of them we do have a closer position. On some, our positions are still far apart. But we continue to work and there is always hope that whatever the ministers couldn't achieve, during the presidents' meeting, we'll have progress.
Nagorno-Karabakh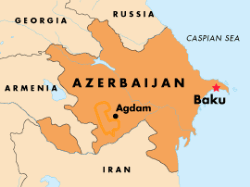 Click on the map to see an enlarged map of the Nagorno-Karabakh conflict area.
In February 1988, the local assembly in Stepanakert, the local capital of the Azerbaijani region of
NAGORNO-KARABAKH
, passed a resolution calling for unification of the predominantly ethnic-Armenian region with Armenia. There were reports of violence against local Azeris, followed by attacks against Armenians in the Azerbaijani city of Sumgait. In 1991-92, Azerbaijani forces occupied most of Nagorno-Karabakh, but the Armenians counterattacked and by 1993-94 had seized almost all of the region, as well as vast areas around it. About 600,000 Azeris were displaced and as many as 25,000 people were killed before a Russian-brokered cease-fire was imposed in May 1994.
For a complete archive of RFE/RL's coverage of the Nagorno-Karabakh conflict,click here.
Of particular interest:
2005 In Review: Conflicts In Caucasus Still Characterized By Gridlock
Nagorno-Karabakh President Expresses Optimism