Yekhanurov said he expected a deal to be made public later today.
Ukraine's Naftogaz state energy company and Russia's natural gas monopoly Gazprom agreed to set up the joint venture under a deal earlier this month that ended a bitter dispute over the price Ukraine pays for Russian natural gas supplies.
Russian and Ukrainian officials have been holding two days of talks trying to finalize the agreement.
The joint venture will be set up between Ukraine's Naftogaz and RosUkrEnergo, an Swiss-registered intermediary equally owned by Gazprom and a group of secret investors.
The agreement has raised criticism in Ukraine because of the shadowy ownership of the RosUkrEnergo company.
Meanwhile, the spokesman for Ukraine's state controlled Naftogaz company, Eduard Zaniuk, said today Ukraine will receive up to 600 billion cubic meters of gas annually from the newly-created joint venture.
(Ukrainska pravda, Interfax-Ukraine, AP)
Central Asia Gas Pipelines
Central Asia Gas Pipelines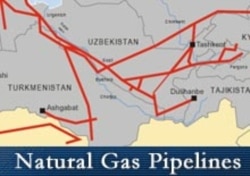 Click on the map for an enlarged image.

Russia's rising appetite for Central Asian gas is a direct result of the shifting fortunes of Gazprom, the state-run Russian company that controls lucrative exports. The company's total gas production has flatlined at around 550 billion cubic meters (bcm) a year. With major fields yielding less as they age, Gazprom has chosen to maintain its all-important gas balance by purchasing gas on the side -- from independent producers in Russia and from Russia's Central Asian neighbors -- instead of investing in the lengthy and costly development of untapped Arctic fields...(more)
See also: