McCain Says Putin Is Undermining Russian Democracy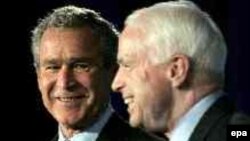 Senator McCain (R) with U.S. President George Bush (file photo) (epa) MUNICH, 4 February 2006  (RFE/RL) -- U.S. Senator John McCain has strongly criticized Russian President Vladimir Putin for what he characterized as the undermining of democracy in Russia and abroad.
McCain made his comments in a speech at an international security conference in the German city of Munich.
The U.S. senator, a presidential candidate in 2000, said Russia appears to be pursuing autocracy both at home and abroad. He also said he seriously questioned whether the member states of the G8 group of industrialized nations should attend a G8 summit scheduled to be hosted by Russia in St. Petersburg later this year.
McCain also criticized Moscow for using its natural gas resources as a means of punishing democratic Ukraine and Georgia while providing cut-rate gas supplies to a dictatorship in Belarus.