Tajikistan Opens Center To Investigate Human Trafficking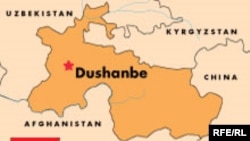 (RFE/RL) DUSHANBE, 6 February 2006 (RFE/RL) --  The United States today praised Tajikistan's efforts to combat human anti-trafficking efforts on a day that a U.S.-funded facility to investigate trafficking cases was opened in the Tajik capital, Dushanbe.
U.S. Ambassador Richard Hoagland, who opened the center together with Tajik Interior Minister Humdin Sharipov, highlighted the passing of a new law to combat people smuggling and the establishment of a specialized anti-trafficking police units and a high-level anti-trafficking commission as evidence of Tajikistan's efforts.
The new Interior Ministry center, which is equipped with state-of-the-art computers, is part of a part of a $250,000 project. The United States also donated 12 vehicles for use by anti-trafficking investigators.