Rights Groups Concerned At Detention Of 70-Year-Old Turkmen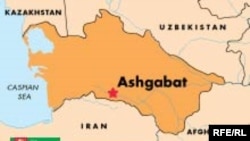 (RFE/RL) PRAGUE, 13 February 2006 (RFE/RL) -- Human rights organizations say they are "deeply concerned" about reports that a 70-year-old Turkmen has been forcibly confined to a psychiatric hospital after criticizing the human rights situation in the country.
In an open letter dated today, the International Helsinki Federation for Human Rights and the Turkmen Initiative for Human Rights, both of which are based in Vienna, called on the Permanent Council of the Organization for Security and Cooperation in Europe (OSCE) to take up the case as soon as possible.
The Russian human rights group Memorial reported on 8 February that Kakabai Tedjenov was detained on 4 January and forcibly admitted to a psychiatric hospital in the eastern city of Turkmenabat.
The Moscow-based organization said Tedjenov had sought to distribute written information about human rights abuses in Turkmenistan to embassies and foreign organizations.