Security Forces Clash With Militants In Daghestan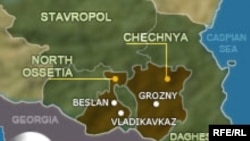 (RFE/RL) 16 February 2006 -- Security forces were fighting an armed group of militants in a village in Daghestan's northern Nogai Raion today.
Russian news agencies said exchanges of fire broke out after security forces surrounded the militants who were holed up in an abandoned building in the village of Chervlyonniye Buruny. It was not immediately clear how many militants were inside the building.
Daghestan's Nogai Raion borders with the Neftekum Raion of Russia's southern Stavropol Krai where Russian security forces clashed on 10 February with a group of armed militants.
Security officials said the militants involved in the clash in Neftekum were believed to be ethnic Nogais who have been fighting against Russian forces in Chechnya since the late 1990s.
(Interfax, ITAR-TASS)


RFE/RL's complete coverage of Russia's war-torn Republic of Chechnya.
CHRONOLOGY
An
annotated timeline
of the Chechnya conflict.