Report Warns Of Instability In Central Asia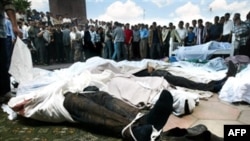 Aftermath of the violent suppression of protests in the Uzbek city of Andijon, May 2005 (AFP) PRAGUE, 16 February 2006 (RFE/RL) -- The international community must develop new strategies to prepare for potential instability in Central Asia, the Brussels-based think tank International Crisis Group (ICG) says in a new report.
The ICG warns that violent unrest in Uzbekistan is a "strong possibility" that could eventually put Uzbekistan at the center of regional volatility.
The report also says that Western policies meant to support the development of political and economic openness have largely failed.
RFE/RL Central Asia Report

SUBSCRIBE For regular news and analysis on all five Central Asian countries by e-mail,
subscribe to "RFE/RL Central Asia Report."