Straw Says 'Tiny' Number of British Troops Committed Iraq Abuse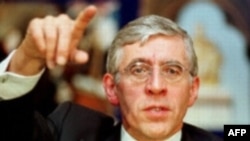 British Foreign Secretary Jack Straw (file photo) (AFP) 21 February 2006 -- British Foreign Secretary Jack Straw has defended British troops caught up in a scandal over alleged abuse in Iraq.
Speaking in Baghdad today, Straw said the soldiers who allegedly committed abuses were "very tiny" in numbers as compared to the nearly 100,000 British troops who have served in Iraq in the past three years.
But he insisted that the alleged abusers would be punished.
Three people have been arrested since the release of a videotape on 12 February apparently showing British soldiers beating Iraqi civilians. The video has contributed to worsening relations between British troops and locals in southern Iraq.
After meeting Straw, President Jalal Talabani said British troops must stay in Iraq as the country's security forces are not ready to take on the insurgency.
Straw also said that the results of the December parliamentary elections show that "no party, no ethnic or religious grouping, can dominate the government in Iraq and this therefore gives further impetus to what Iraqis tell us they want, which is a real government of national unity, binding together all the different elements of Iraqi society."
(RFE/RL's Radio Free Iraq, with AFP, Reuters)

SUBSCRIBE For weekly news and analysis on Iraq by e-mail,
subscribe to "RFE/RL Iraq Report."