Ukraine Considers Arbitration In Gas Dispute With Turkmenistan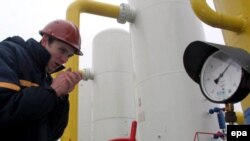 A UkrTransGaz worker checks gas valves at the Boyarka gas station, outside Kyiv (file photo) (epa) 22 February 2006 -- Ukraine today said it may seek international arbitration over a growing gas dispute with Turkmenistan.
Turkmen officials have recently said they want to raise the price of natural gas that Ukraine buys. But Kyiv says that any rise in price would violate existing agreements.
On 19 February, Turkmenistan accused Ukraine of owing it millions of dollars for delivered gas.
Oleksiy Ivchenko, the head of Ukraine's state-run gas company, today said that Turkmenistan is making that accusation to justify a gas-price increase.
(AP)
Central Asia Gas Pipelines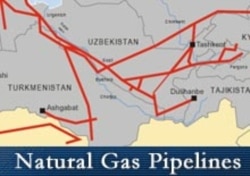 Click on the map for an enlarged image.

Russia's rising appetite for Central Asian gas is a direct result of the shifting fortunes of Gazprom, the state-run Russian company that controls lucrative exports. The company's total gas production has flatlined at around 550 billion cubic meters (bcm) a year. With major fields yielding less as they age, Gazprom has chosen to maintain its all-important gas balance by purchasing gas on the side -- from independent producers in Russia and from Russia's Central Asian neighbors -- instead of investing in the lengthy and costly development of untapped Arctic fields...(more)
See also: