Russian Official Says Iran Nuclear Proposal Still On Table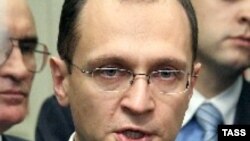 Federal Atomic Energy Agency chief Sergei Kiriyenko (file photo) (ITAR-TASS) 25 February 2006 -- Russia's nuclear energy chief said today that Moscow's proposal to enrich Iranian uranium on Russian soil "remains on the negotiating table."
Federal Atomic Energy Agency head Sergei Kiriyenko's comment came after talks in Tehran with Gholamreza Aqazadeh, the head of Iran's Atomic Energy Organization.
Moscow has offered to enrich uranium for Iran in Russia, in an attempt to allay Western fears that Tehran could divert enriched uranium for the production of nuclear weapons.
Kiriyenko was quoted by Russian news agencies as saying that he was "satisfied with the way" the negotiations were going.
Kiriyenko said he and Aqazadeh agreed that discussions would continue on the expert level all day and would touch on "all aspects of cooperation."
The Russian official also said Russia wants to complete the construction of a nuclear power station at Bushehr, in Iran, as soon as possible. Russia is helping Iran build the plant.
(compiled from agency reports)

THE COMPLETE PICTURE: RFE/RL's complete coverage of controversy surrounding Iran's nuclear program.
CHRONOLOGY
An
annotated timeline
of Iran's nuclear program.