Bulat Abilov, co-chairman of the unregistered Naghyz Ak Zhol party, and Petr Svoik of the unregistered Algha (forward) party declared their fast after being jailed for holding a rally on February 26 in memory of slain opposition leader Altynbek Sarsenbaev.
Sarsenbaev was found shot dead outside Almaty on February 13 along with his driver and bodyguard. Police have arrested the Senate's administrative chief Yerzhan Utembaev and five security officers for the killings.
Twelve opposition activists were jailed for five to 15 days for their part in the unauthorized rally. Two of them reportedly have joined Abilov and Svoik in the hunger strike.
(AP)
A Discussion Of The Kazakh Election
A Discussion Of The Kazakh Election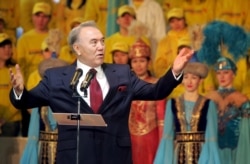 Kazakh President Nursultan Nazarbaev addressomg a rally of supporters on the day following the December 4 vote (epa)

DANGEROUS TO BE IN THE OPPOSITION: On December 8, RFE/RL's Washington office hosted a discussion of the December 4 presidential election in Kazkhstan. RFE/RL Kazakh Service Director MERHAT SHARIPZHAN and RFE/RL Central Asia Analyst DANIEL KIMMAGE participated in the discussion.
Sharipzhan highlighted the difficulties faced by opposition candidates -- including the untimely deaths of prominent opposition leaders -- and argued that they effectively chilled the political environment in the country. He also noted that the government repeatedly confiscated opposition newspapers during the campaign. However, he noted that Kazakhstan's relatively strong economy boosted Nazarbaev's popularity. Kimmage discussed Nazarbaev's pledge to proceed with democratization only after the economy is put in order, describing the political system in Kazakhstan as a form of "managed democracy."
Listen to the complete panel discussion (about 90 minutes):
Real Audio Windows Media



RFE/RL's complete coverage and background of Kazakhstan's presidential election on December 4, 2005.