Reporters Without Borders Urges Release Of Female Journalists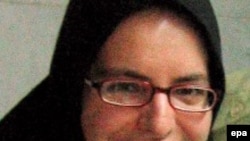 American journalist JIll Carroll was kidnapped in Iraq in January (file photo) (epa) March 7, 2006 (RFE/RL) -- Reporters Without Borders is calling for the release of two women journalists held hostage in Iraq, and for six others who are imprisoned in Cuba, Ethiopia, Iran, Maldives, Nepal, and Rwanda.
In a statement released today on the eve of International Women's Day, the Paris-based media watchdog said eight women journalists have been kidnapped in Iraq since March 2003. One of them, Raeda Wazzan, was killed by her captors in February 2005.
The group said 46 women journalists have been killed worldwide while doing their job since 1992.