Chechen Leader Comments On Predecessor's Slaying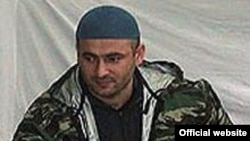 Abdul-Khalim Sadulayev, leader of the Chechen rebels (file photo) (official site) PRAGUE, March 8, 2006 (RFE/RL) -- Chechen separatist leader Abdul-Khalim Sadulayev accused today the Russian authorities of luring his predecessor Aslan Maskhadov into a fatal trap one year ago.
Sadulayev said Russian authorities "treacherously" killed Maskhadov, having invited him to "talks" and guaranteed his security "at the highest level."
Sadulayev, who is in hiding, made the accusation on March 8 in a statement posted on a Chechen pro-separatist website, kavkazcenter.com.
Maskhadov was killed by Russian forces on March 8, 2005, in a village north of Grozny. Russia said at the time he was killed "during an operation led by FSB [security service] special forces."
Maskhadov headed the Chechen separatist forces during the 1994-96 war. He was elected Chechen president in January 1997.
He was one of the most wanted men in Russia, with Moscow blaming him for a string of deadly attacks on civilian and military targets in Russia.


RFE/RL's complete coverage of Russia's war-torn Republic of Chechnya.
CHRONOLOGY
An
annotated timeline
of the Chechnya conflict.