Kazakhstan Fines Opposition Figure, Newspaper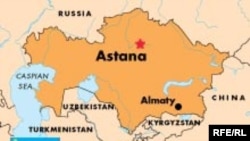 (RFE/RL) March 10, 2006 -- Kazakh authorities today fined an opposition figure and a newspaper for slandering a Canadian businessman.
A court in Almaty ordered Bulat Abilov, co-chairman of the unregistered Naghyz Ak Zhol party, to pay the equivalent of $7,700. The court ordered the "Svoboda slova" newspaper to pay the equivalent of $400.
The court said Abilov slandered Adonis Derbas in an interview published in "Svoboda slova" in July, 2005.
The defendants and their supporters say the charges against them were politically motivated.
Abilov says he plans to appeal.
(AP)

RFE/RL Central Asia Report

SUBSCRIBE For regular news and analysis on all five Central Asian countries by e-mail,
subscribe to "RFE/RL Central Asia Report."