RFE/RL: Milosevic was generally known to have health problems. What did he specifically suffer from?
Patrick Moore: He had a long history of diabetes and cardiovascular problems. He was a man who had what you would call a sedentary lifestyle. He smoked, he was fond of scotch [whisky], and he also had a long history of high blood pressure. And it was for these medical reasons that his trial was frequently interrupted.
RFE/RL: Had Milosevic been receiving adequate medical treatment in The Hague? He recently claimed, for example, that he needed to go to Moscow to get medical treatment that was not available to him in the prison.
Moore: He seems to have had the best medical treatment available in The Hague, up to Dutch and Western medical standards. And [his recent request to go to Moscow to seek medical treatment] was seen largely as a political ploy, which was presumably why the court turned it down. Let's not forget that his wife and his son are [reportedly] holed up somewhere in Russia avoiding Serbian arrest warrants on criminal charges. So, he really had due care taken of his health and, as I say, his trial was postponed on numerous occasions, slowed down, just so it would not overtax his health.
RFE/RL: Milosevic is known to have a history of suicide in his family. Is there any reason to suspect suicide as the reason of his death?
Moore: He apparently told a number of people both close to him politically and close to the tribunal that he had put so much effort and, some people say, enjoyment into conducting his own defense that he 'wasn't going to throw it all away,' as he told one person. There is a history of suicide in the family, I believe that both his parents committed suicide but, from what I understand, there is no serious charge since he died that this was from anything but natural causes.
RFE/RL: What does Milosevic's death mean for the international community, which brought him to trial for war crimes as part of an effort to heal the damage he and other nationalist leaders did in the Balkans?
Moore: His untimely death means that justice will never truly be done in his case. There will be no sentencing on crimes of genocide, crimes against humanity, and the like. We still have a very strong legacy of his presence in Serbia, of strong nationalist parties. He himself was an opportunist but he knew how to inflame these nationalist passions. The big curse of modern Serbia, which is an interlocking of crime, corruption, politics, business, and the intelligence community, remains in place.
RFE/RL: What kind of reaction are we likely to see in Serbia to his death?
Moore: When they arrested him and sent him to The Hague in 2001, there were no riots [by his supporters] out on the streets, outside of a few disgruntled protesters because he had already become 'yesterday's man.' So I don't see anything happening [in Serbia] out of this even though he was a former head of state and I think any funeral is going to be fairly low key, probably back in his home town of Pozarevac.
In Poor Health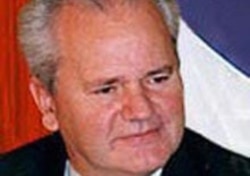 Slobodan Milosevic in an undated file photo (CTK)
HEART TROUBLES, HIGH BLOOD PRESSURE: Almost since the beginning of his trial in The Hague in February 2002, Slobodan Milosevic has been complaining of ill health. His trial has been repeatedly delayed as he sought medical treatment. As recently as February 24, the court declined Milosevic's request to travel to Russia for treatment for heart problems and elevated blood pressure, despite pledges from Moscow that Milosevic would be returned to The Hague to continue his trial on 66 counts of war crimes and crimes against humanity.
"[My health is] getting worse because of the decision that gives me no chance or adequate time to prepare my defense, and that is pretty clear," Milosevic told the court on July 5, 2004. " Because of that, I think that you have an obligation to give me adequate time."
"[The judges] have been very clear that there is no evidence to suggest that Mr. Milosevic is not fit enough to stand trial," court spokesman Jim Landale told journalists the next day. "They have decided that the time has possibly come for them to assign what is called a 'standby counsel.' That is a lawyer who would work alongside Mr. Milosevic and, were Mr. Milosevic to become ill again, be able to step in and represent his interests in court."
Of related interest:
Moscow Unhappy At Milosevic Travel Ban To Russia
Milosevic Seeks Leave For Health Checks In Russia
War Crimes Trial Takes Summer Recess Amid Concerns Over Milosevic's Health
See also:
Timeline: The Political Career Of Slobodan Milosevic
Slobodan Milosevic's Life And Legacy


THE COMPLETE PICTURE: An archive of RFE/RL's coverage of the trial of former Yugoslav President Slobodan Milosevic.
Of related interest:
RFE/RL Special: The Collapse Of Tito's Yugoslavia