UN Court Denies Milosevic Treatment In Russia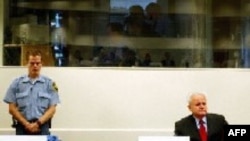 Slobodan Milosevic in court (file photo) (AFP) 24 February 2006 -- The UN war crimes tribunal in The Hague has rejected a request by former Yugoslav President Slobodan Milosevic to allow him to travel to Moscow for medical treatment.
Milosevic, who is suffering from a heart condition and high blood pressure, has appealed the decision.
Russia had promised to send Milosevic back, but the court said it was not satisfied that, if released, the former Yugoslav president would return to the Netherlands.
Milosevic is on trial for war crimes and genocide during the Balkans wars of the 1990s. His trial this month entered its fifth year.
(Reuters, dpa)



For an archive of RFE/RL's coverage of the trial of former Yugoslav President Slobodan Milosevic, click here.
Of related interest:
RFE/RL Special: The Collapse Of Tito's Yugoslavia