Former Afghan President Survives Bomb, Blames Pakistan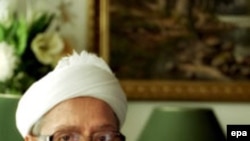 Sebghatullah Mojaddedi, head of the Meshrano Jirga, head of a reconciliation commission, and former president of Afghanistan (file photo) (epa) March 12, 2006 -- Officials say the head of an Afghan commission seeking to encourage Taliban defections has survived a suicide bomb attack in the capital, Kabul.
Sebghatullah Mojaddedi, a former president of Afghanistan and the chair of the upper house of parliament, the Meshrano Jirga, was being driven along a busy main road when attackers detonated a car laden with explosives near his vehicle.
Officials say two bombers and two civilians were killed.
Calling Mojaddedi "one of the strongest voices" in the country, Afghan President Hamid Karzai said the attack was "an attack on Afghanistan's voice, [...] on the Afghan voice, [... and] an attack against peace in Afghanistan."
Mojaddedi was slightly wounded, later appearing at a press conference with bandages on his hands, which he said covered burns caused by the blast.
Mojaddedi blamed neighboring Pakistan's secret service, the Inter-Services Intelligence (ISI), for the attack.
Calling Pakistan Afghanistan's greatest current enemy, he said that the ISI is behind the attacks currently being carried out by the remnants of the deposed Taliban regime and by other militants in Afghanistan.
Pakistan's Foreign Ministry rejected the charge.
Mojaddedi's comments follow repeated complaints by Afghanistan's government that militants are planning and organizing attacks from sanctuaries inside Pakistan.
Mojaddedi currently heads a commission responsible for reconciliation efforts between the government and the Taliban.
(compiled from agency reports)
RFE/RL Afghanistan Report

SUBSCRIBE For regular news and analysis on Afghanistan by e-mail,
subscribe to "RFE/RL Afghanistan Report."