The deaths are yet to be verified by the World Health Organization, but officials said the highly pathogenic H5N1 strain was identified in the victims, who are from the southern Salyan region.
Tests carried out in Azerbaijan did not confirm the presence of the virus in six other patients hospitalized with flu symptoms in the same area.
The World Health Organization has until now confirmed the deaths from bird flu of 98 people since 2003. Most of the victims were living in Asia, where the disease first emerged.
(AFP)
Interview With UN FAO's Erwin Northoff
Interview With UN FAO's Erwin Northoff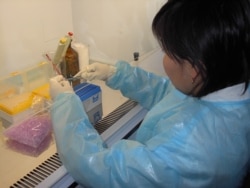 An expert at the National Virology Laboratory of the Kyrgyz Health Ministry (courtesy photo)
GETTING READY: Many have expressed concern about the ability of Central Asian countries to come to grips with a possible bird-flu outbreak. RFE/RL Turkmen Service correspondent Muhammad Tahir spoke with Erwin Northoff, news coordinator for the UN's Food and Agriculture Organization (FAO), about the issue. ....(more)