Amnesty Criticizes Russia On Human Rights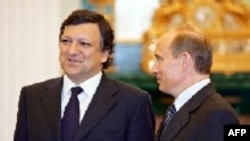 Jose Manuel Barroso, the president of the European Commission, with Russian President Vladimir Putin (file photo) (AFP) March 16, 2006 -- Human rights watchdog Amnesty International today called on the European Union to step up pressure on Russia to improve its human rights record.
Amnesty's appeal comes on the eve of a visit to Moscow by the president of the European Commission, Jose Manuel Barroso.
Amnesty's EU director Dick Oosting said Russia had to be called to account for continuing human-rights abuses in Chechnya and the unaccountability of its law-enforcement agencies. He said more needed to be done to highlight the clampdown on civil society organizations in Russia, including restrictions on freedom of speech.
Oosting noted that in May Russia takes over the chair of the Committee of Ministers of the Council of Europe, the continent's leading human rights watchdog.
(dpa)



RFE/RL's complete coverage of Russia's war-torn Republic of Chechnya.
CHRONOLOGY
An
annotated timeline
of the Chechnya conflict.