Addressing reporters in the eastern town of Rustavi, Merabishvili said attacks against him and his administration were directed at the Georgian state.
"I am very glad to see that fighting me has become the main objective of the entire opposition," Merabishvili said. "It shows the opposition understands that harming police would seriously harm the state. However, I am sure that police officers will not waiver and fight against criminals even more actively. We shall steadfastly continue fighting crime."
Opposition parties and rights campaigners have been demonstrating to demand Merabishvili's resignation over the killing of 28-year-old bank employee Sandro Girgvliani.
Girgvliani was found dead in a Tbilisi cemetery in late January. Four high-ranking Interior Ministry officers have reportedly confessed to beating him to death and were sent to prison pending the completion of the investigation.
Opposition leaders say Merabishvili, a close ally of President Mikheil Saakashvili, must take responsibility for the murder and step down. Rights campaigners say police violence has been steadily increasing since Merabishvili took over as interior minister in late 2004.
(Novosti-Gruziya, Civil Georgia)
Human Rights In Georgia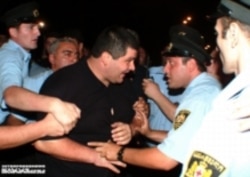 Georgia's police have been accused of using excessive force (official site)


READ
'CULTURE OF IMPUNITY':
Georgian President Mikheil Saakashvili's government has had
a checkered human rights record
since it came to power after the 2003 Rose Revolution. The international community has welcomed the steps taken by the new Georgian leaders to refine the legal mechanisms needed to combat rights abuses. But it also blames the government for failing to ensure those mechanisms are properly implemented
....(more)
RELATED ARTICLES
Rights Group Sees Rise In Police Brutality In Georgia
Citizens See No Improvement In Society, Economy After Revolutions
Helsinki Report Finds Human Rights Problems Plague Entire Region