President Alyaksandr Lukashenka, who has ruled the country for 12 years, is seeking a third term. He faces three challengers, two from the liberal camp, although analysts doubt the vote will be free or fair.
The main opposition candidate Alyaksandr Milinkevich urged some 6,000 supporters at a rock concert in Minsk last night to take to the streets after polls close to keep the count honest.
Lukashenka has vowed there will be no revolution in Belarus. The KGB security service has said any protesters who take to the streets could be charged with "terrorism."
Yesterday, the EU foreign policy chief Javier Solana said violence against peaceful protests "would meet with a strong international reaction."
During campaigning, dozens of opposition activists were fined or sentenced to short term jail terms. International observers and reporters have been denied entry or deported. Yesterday, three activists from Russia's liberal Yabloko party were detained in Gomel, a major Belarusian city.
(AP, Reuters)
Belarus And Poland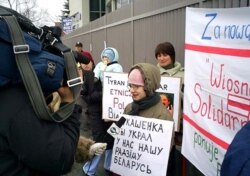 An anti-Lukashenka demonstration in Warsaw on February 22 (RFE/RL)

LOOKING OVER THE FENCE: In the 12 months leading up to today's presidential elections, Polish citizens have taken a strong interest in the fate of their neighbors, the Belarusians. Some say this is because the two countries are geographically linked and it is in Poland's best interest to be surrounded by democratic friends. Others say it is because of Poland's own strong history fighting against oppression. Regardless of the reason, one thing is indisputable: Poland is almost as invested in the results of the March 19 election as Belarus is....(more)
Related stories:
Belarus: Mixed Feelings About Poland's Interest
Belarus: EU-Funded Broadcasts Set To Begin
On 25th Anniversary, Walesa Says Solidarity 'Broke Bear's Teeth'
Warsaw Seems To Be Losing Duel With Minsk Over Ethnic Organization


Click on the image to view a dedicated page with news, analysis, and background information about the Belarusian presidential ballot.
MEET THE CANDIDATES: Read brief biographies of the four candidates in the March 19 election.


Click on the image to view RFE/RL's coverage of the election campaign in Belarusian and to listen to RFE/RL's Belarus Service.