Kazulin's wife earlier said she did not know the whereabouts of her husband, a leading opposition figure.
But a spokesman for Kazulin, Ilya Rassolov, told RFE/RL's Russian Service that Kazulin was detained in the town of Zhodina, about 50 kilometers east of Minsk.
"A case was opened under Article 339 for hooliganism," Rassolov said. "[Kazulin] will meet a lawyer only tomorrow. The case is led by an investigator from Minsk, although Zhodina is outside of Minsk. We were told that Kazulin is not complaining about his health. However, we are going to demand a medical examination because there are some doubts. Our main task now is to establish contact with him."
Kazulin was arrested on March 25 as he was leading protesters to a jail in Minsk where demonstrators were being held. Belarusian Interior Minister Uladzimir Navumau said Kazulin was arrested because he called on people to attack state installations.
The European Union and the United States have demanded Kazulin's release.
The demonstrators accuse President Alyaksandr Lukashenka of stealing the March 19 election, which saw him reelected to a third term by an overwhelming majority. The government insists the polls were fair.
(RFE/RL's Russian and Belarus services, with Reuters, AP)
Minsk, March 25
THE AUTHORITIES GET TOUGH: RFE/RL's Belarus Service filed these images from the police action against the March 25 demonstration in Minsk. Photographs by Maks Kapran.
LISTEN
Listen to the sounds of the demonstration:
Real Audio Windows Media
Real Audio Windows Media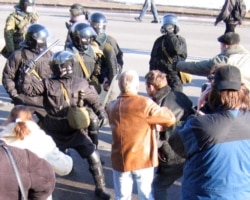 (RFE/RL)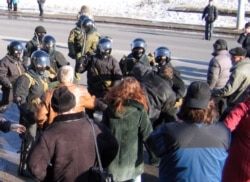 (RFE/RL)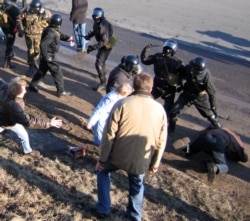 (RFE/RL)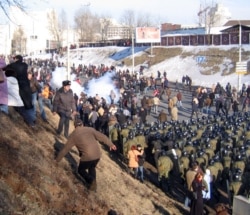 (RFE/RL)

THE COMPLETE PICTURE:
Click on the image to view a dedicated page with news, analysis, and background information about the Belarusian presidential ballot.


COVERAGE IN BELARUSIAN: Click on the image to view RFE/RL's coverage of the election campaign in Belarusian and to listen to RFE/RL's Belarusian Service.