Tehran Wants Nuclear Fuel Center In Iran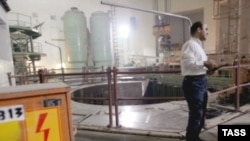 Inside Iran's Bushehr nuclear power plant (file photo) (ITAR-TASS) March 28, 2006 -- Tehran is calling for a nuclear fuel production center to be set up in Iran, with the involvement of other countries.
The proposal, made in a statement issued by the Iranian Embassy in Moscow, would offer an alternative to a Russian proposal to enrich Iran's uranium on Russian soil.
That proposal was intended to allay international fears that Iran may be seeking to produce atomic weapons.
Russia's Defense Minister Sergei Ivanov called on March 28 for Iran to say "unambiguously" whether it will accept or reject the Russian offer.
The five permanent United Nations' Security Council members, together with Germany, meet in Berlin on March 30 to discuss what next steps should be taken to resolve the crisis triggered by Iran's pursuit of a nuclear program.
China's Foreign Ministry has expressed hope for the meeting, saying there is still room for negotiation.
(AP)

THE COMPLETE PICTURE: RFE/RL's complete coverage of controversy surrounding Iran's nuclear program.
CHRONOLOGY
An
annotated timeline
of Iran's nuclear program.