Afghan Parliament Says Convert Should Stay In Country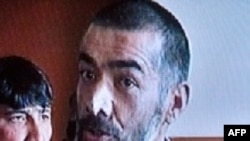 Abdul Rahman at a court appearance on March 23 (AFP) March 29, 2006 -- Afghanistan's parliament today said that an Afghan man seeking asylum after facing a possible death penalty for converting to Christianity should not be allowed to leave Afghanistan.
It was not immediately clear if parliament could actually prevent Abdul Rahman from leaving the country.
Rahman has been in a secret location since his release from prison on March 28.
Some conservatives have reacted angrily to the decision to acquit Rahman of the apostasy charge, arguing that he should be sentenced to death for violating Islamic law.
The Italian cabinet will today consider whether to grant asylum to Rahman.
(AFP, Reuters)